Date Idea #358 – 25 Date Ieas that start with the letter "D"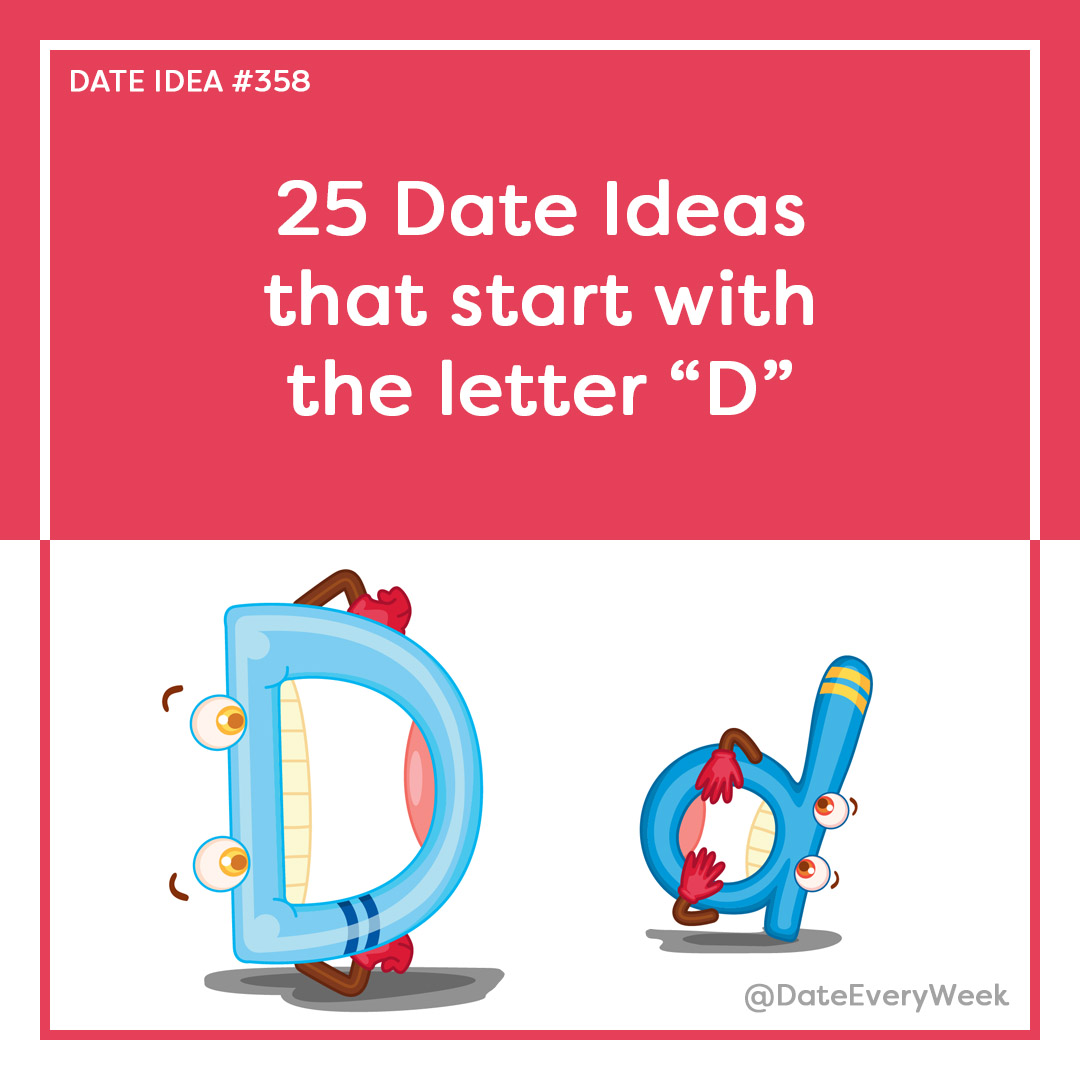 Back in January, we posted a date idea (#274) about picking a single letter of the alphabet and then planning your date night around that letter. This month we are focused on the letter "D".
We think this is a fun and creative way to have new experiences on your date nights this year. Take the "Alphabet Date Challenge" and plan one date per month with a different letter from the alphabet.
DATE PLAN:
STEP 1 – Pick a letter from the alphabet.
STEP 2 – Eat at a restaurant that starts with that letter.
STEP 3 – Choose at least one date activity (or movie to watch) that also starts with that letter.
BONUS – While on your date, listen to songs or an artist that starts with your chosen letter.
Here's a list of 25 suggested date activities that all start with the letter "D" that will make a "Dapper" date night.
Dancing
Darts
Decorate Cookies
Deep Sea Fishing
Derby Races
Diamond Painting
Dinner Party
Dinner Theater
Dirtbike Racing
Disc Golf
Disco Dancing
Disney Theme Date
Diving
DIY Project
Dodgeball
Dolphin Swim
Dominos
Donate Time/Items
Donut Run
Double Date
Downtown Walk
Draw Portraits
Dream Date
Driving Range
Duck Feeding
Can you think of any other "D" date ideas? If so, post them in the comments. We plan to post a new letter for this alphabet dating challenge each month, so stick around for more fun date ideas.
Special thanks again to @kimrahn1987 for this date idea inspiration!